O2 envisages how 5G will revolutionise the live entertainment industry
O2 has conducted further research into how 5G connectivity could change the UK's live entertainment industry. It's come up with some very promising results.Most significantly, the report has found that 5G could boost the entertainment sector's revenue by as much as £2.3 billion over the next 10 years, via its ability to rejuvenate live experiences.
That encompasses the ways in which 5G can make events more thrilling before, during and after said shows, through its use of technologies such as VR and AR.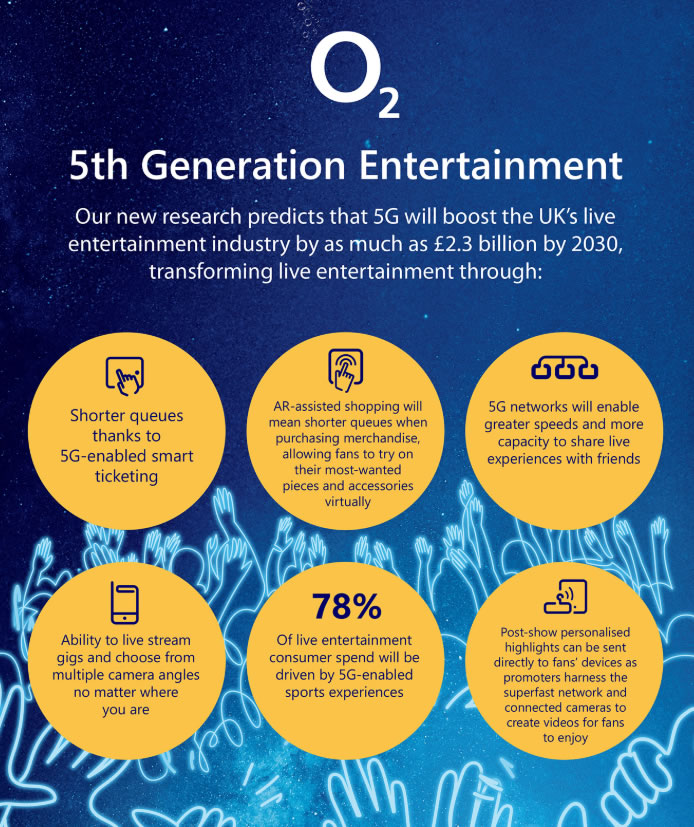 Useful read: How will 5G boost VR and AR?No more queues During the report, O2 speculated on how 5G can help in real world scenarios. One suggestion predicts that queueing for a drink at the bar during a performance could become a thing of the past.




The idea is that reducing latency could enable order-in-advance systems, with other methods involving being able to detect from your phone where the busiest bars are located (so you can avoid them) or also using apps to help negotiate a busy arena that you might not be familiar with. AR-assisted shopping could also help amongst busy merchandise stands, allowing fans to easily pick out what they want virtually, before going to collect it at a designated time.Such features sound immensely promising for anyone who's found themselves stuck in a busy crowd at a major event, but it could go further still when it comes to personalised events.




O2 predicts that you might be able to receive a personalised highlights reel of your time there, capturing the event from multiple camera angles and, ultimately, saving you the hassle of recording footage yourself.For those users not able to attend events, they may be able to live stream gigs and choose from different angles and perspectives.




Technology like that could be particularly useful for disabled people, as well as save those who live further afield the need to travel long distances to see their favourite band or team.Teaming up with ITV For now, there's a certain amount of speculation here, but O2 is putting plans into motion.




It's formed a partnership with ITV to explore how seamlessly connected HD cameras can share more content over the higher capacity 5G networks available. For instance, it used the technology to produce the world's first live TV advert powered by 5G, when it collated footage of fans during the England versus Argentina match last year.




O2 reckons that by 2028, 78 percent of live entertainment consumer spending will be driven by 5G-enabled sports experiences so it's a crucial time for businesses to get on board with the potential. It's a similar vision that Intel suggested back in 2018With the Olympic Games coming up in Tokyo, it's expected that 5G growth will further continue in the short term.Given O2's sponsorship of England Rugby, O2 arena, and continued work with its Priority Tickets scheme, it makes sense to see O2 work so hard towards combining 5G connectivity and entertainment.




For now, we'll hope that its vision proves to be correct. Especially the shorter queues because who really wants to be stuck queuing for a drink when their favourite song comes on?




Source: Jennifer Allen. 5g.co.uk